Fact: You Use A Shower Head Everyday (Or At Least We Hope You Do!)
For such a commonly used bathroom fitting, it is surprising how often this one feature is overlooked in the design process.
That's why this post exists – to give a voice to the forgotten shower head! Follow this guide for some great tips on how to choose the right shower head for you.
Types of Shower Heads?
Your first decision is to decide what shower layout you will have. There are many options for a shower setup, ranging from a standard shower head extending from the wall, to a movable handheld shower, or a combination of the two that is perfect for a combined bath/shower.
These are all of your possible set ups: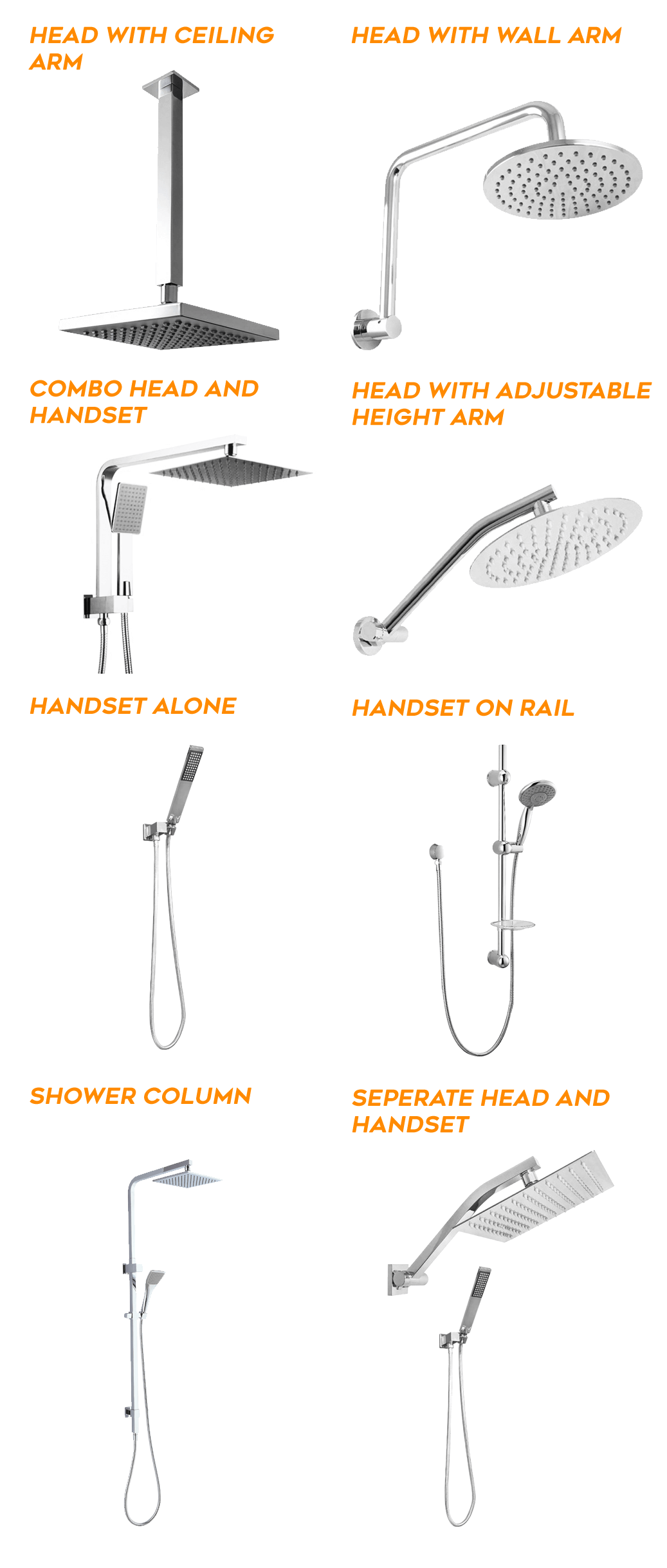 Who Will Be Using The Shower?
Will the shower head be in the master bedroom, a guest bathroom, or the kids shower? Maybe it's a shower that the whole family will share?
For a shower head in a guest bathroom, a standard head should suffice, but for the kid's bathroom you should consider a handheld shower. This will assist in showering the kids, washing hair, and easy cleaning of the shower.
Another factor to consider is the height of the people using the shower.
If the whole family will be using the same shower, you'll need a height-adjustable shower so that both the kids and parents can enjoy a comfortable shower.
You could either have a handset on a rail which can be moved up and down to change the height, or you could have a head on a height-adjustable arm.
If the shower is in the master bathroom and you will be the one using it every day, go for gold!
Pick the layout you most prefer – whether this is a ceiling head giving a luxurious rainfall shower, or a combined head and handset for the best of both worlds. Or why not try a multi-spray shower head for the ultimate shower experience.
Multi Function Sprays
Shower heads can have either a standard, single spray that are generally usually cheaper than their multi-function counterparts, which offer various patterns of water spray for a truly relaxing and therapeutic shower experience.
For example, this shower head pictured below has five sprays including a massaging jet spray for relief of stress and muscle strain, a strong waterfall spray for hair washing and heavy cleaning, and a relaxing mist spray.
Mounting
Your next decision is how you want to mount your shower.
If you are just replacing an existing shower head you'll have to stick with your existing layout, unless you want to spend thousands on redirecting the plumbing in your shower.
For a major bathroom renovation or building a new house, you have the luxury of choice.
For total extravagance, a rainfall shower head is a great way to go. It's the popular trend in shower design right now and rightly so!
Giving you a fully immersed experience, not only does it look great but it feels great too.
The other option is to have the arm extending out from the wall, which allows an angled shower. Whilst this is a more conventional layout, it is ideal for when you don't want to get your hair wet.
Recent Posts
Everyone has experienced a leaking tap in their home at some point in their life. It's one of tho …

Bathrooms need the correct type of bath to make them standout and to offer you the best functionalit …

Bringing a bath into your bathroom gives the room a centrepiece that draws the eye. For that reason …