If you need to buy a new toilet but don't know anything other than how to use one, look no further!
This guide, "Toilet Training For Adults", will teach you everything you need to know about toilets - from the type of available toilets to how to decide which is most suitable for you, as well as handy hints and fun facts along the way.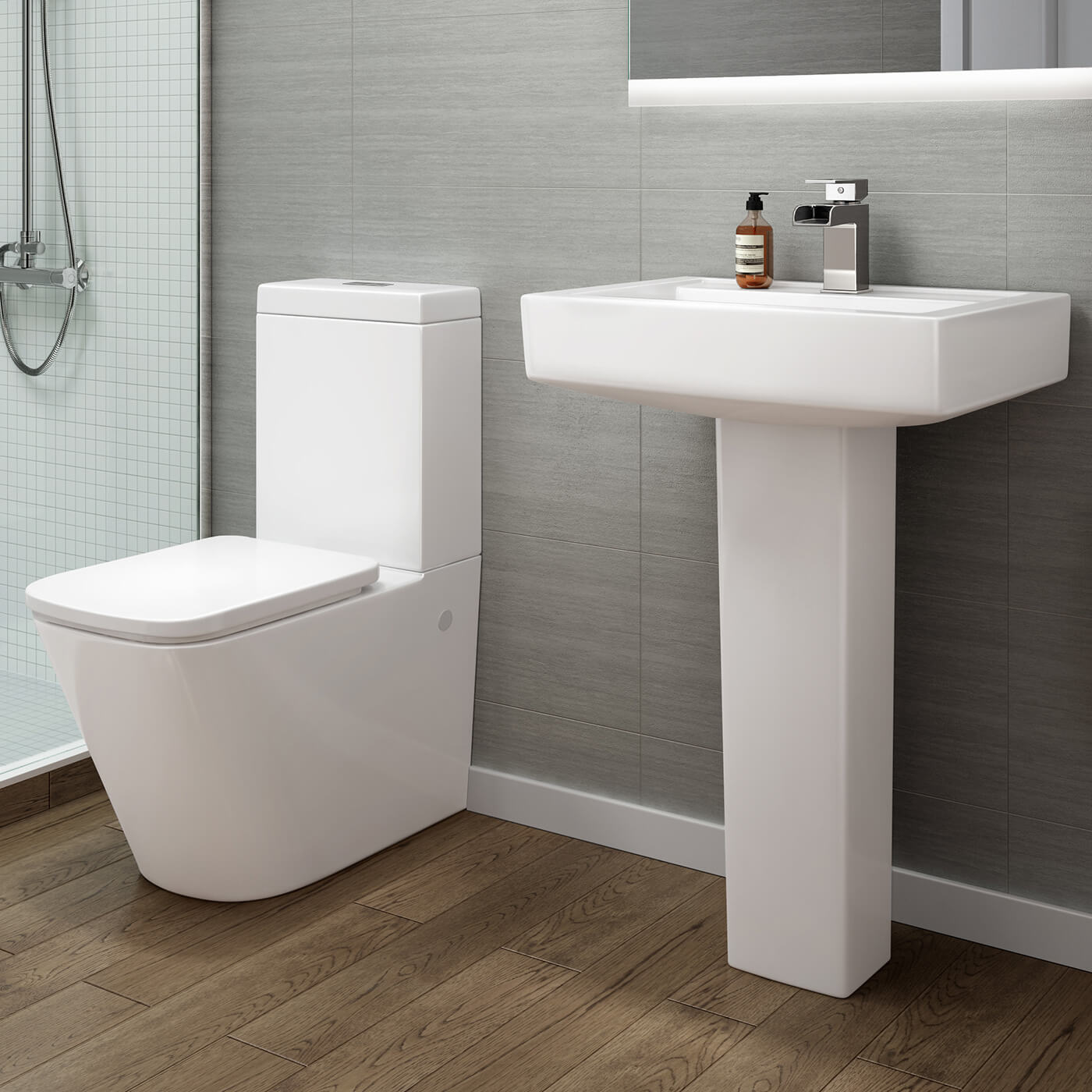 History of the Toilet
The flush toilet became commonplace in households in the 19th century, despite being invented in 1596. Prior, toilets were 'dry' (no water) and were essentially a hole in the ground. As such, they were kept in outhouses away from the main house to prevent diseases like cholera. During the night, chamber pots were used, and their contents were disposed of in the morning. Since the 19th century, there has been little change to single flush toilets other than becoming more water-efficient and more contemporary in design.
Fun Fact: Australia uses the wash down toilet bowl compared to the siphonic toilet, which is common in America. The washdown toilet is much more water-efficient as it only half fills the toilet pan and features the water-saving dual flush toilet system. It is also less prone to clogging than the siphonic toilet as it utilises a larger waste pipe.
Handy hints: Toilet Anatomy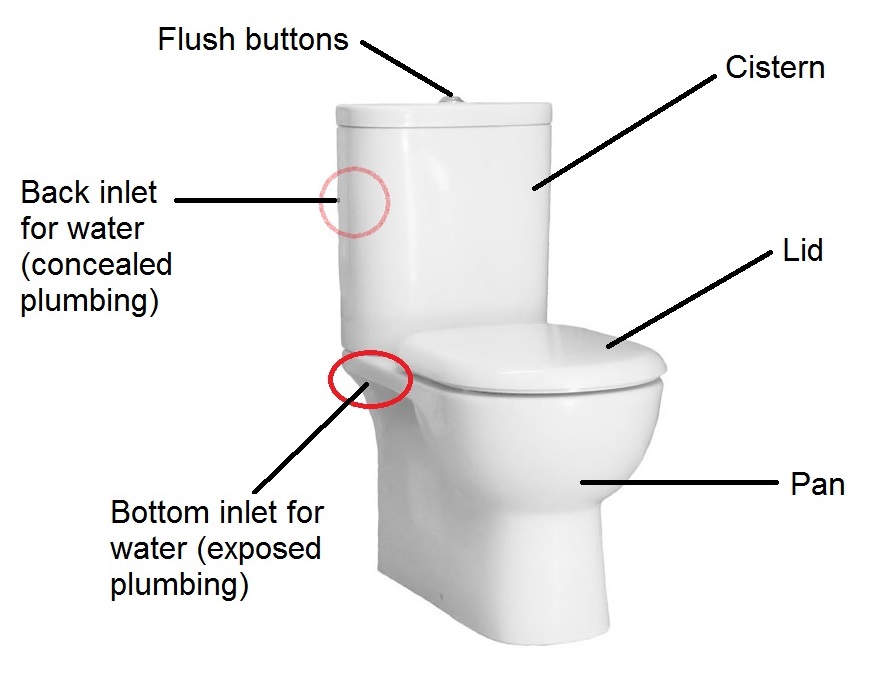 Toilet Anatomy: Diagram depicting the main parts of a toilet suite
Handy Hint: Whether you're building, renovating, or simply replacing your existing toilet, it's important to measure the space you have available. Don't forget to leave enough room for opening doors and cabinets.
Three Types of Toilet Set Outs
1. S-Trap

The S-Trap toilet style is where the waste pipe goes from the toilet bowl into the ground and is the most common set out used in Australia.
Unfortunately set outs are not universal. However, the toilets at The Sink Warehouse come with adaptors to fit a wide range of set outs.
2. P-Trap

The P-Trap style of toilet is where the waste pipe goes from the toilet bowl and out the wall.
While P-traps are much less common than S-traps, they are mostly standard in their set outs, making for easier purchase and installation.
3. Skew pan

A skew pan toilet is available for an offset waste pipe where the toilet is not situated directly in front of the pipe. These are much less common but are useful in situations with limited options.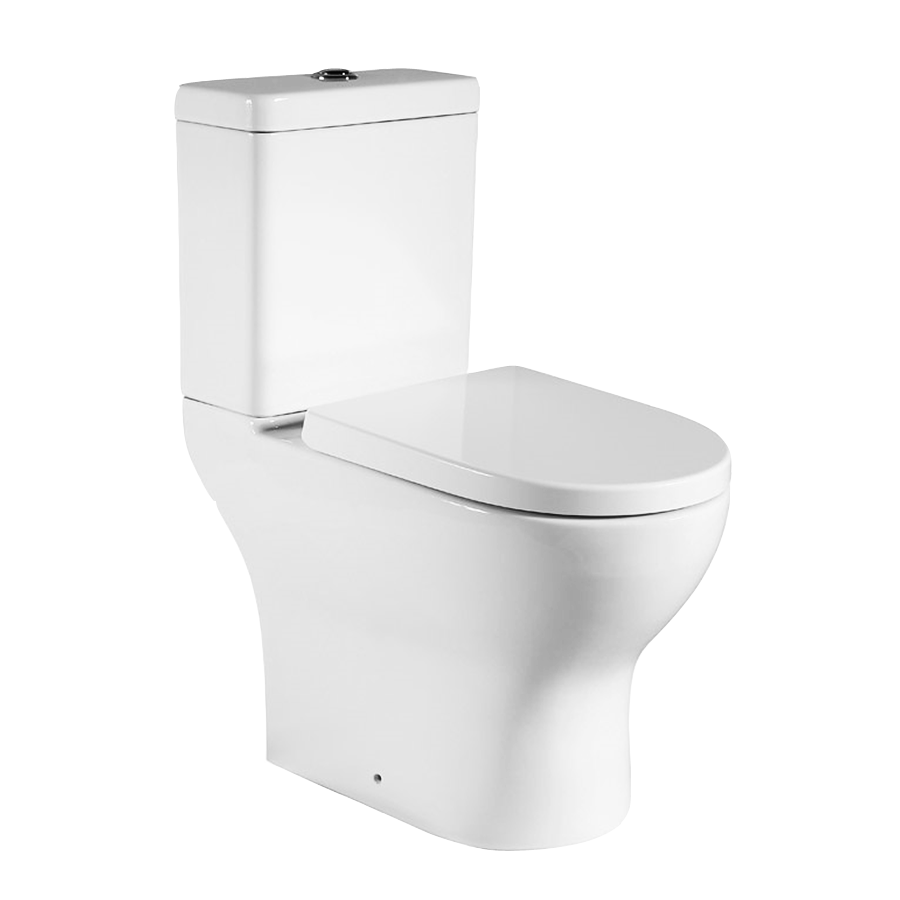 Handy Hints:
Left and right-handed skew pans are determined by facing the front of the pan and seeing which side the waste pipe goes.
These toilets are difficult to find. If you require a skew pan but want a modern look and extra features, you might like to consider the Skew Toilet Suite, which can be set either to left or right and is supplied with all the necessary fittings.
Before buying a new toilet, it is crucial to measure the existing waste set out, which for an S-trap is the distance from the wall to the centre of the waste pipe, and for a P-trap is the distance from the floor to the centre of the pipe. The way you will know exactly what will and won't fit, and ultimately save yourself the hassle down the line when it comes time to install.
Water Inlet
The water inlet is the point at which water enters the cistern. This is the source of the water required to flush the toilet. Commonly the water inlet is at the bottom of the pan or cistern and is called a 'bottom inlet'. In this instance, the tap and pipe that feeds the water to the toilet are visible on one side of the pan. The other option is to have a 'back inlet', where the tap and pipe are concealed in the cistern itself, allowing a more minimalist, modern-looking toilet suite (and less to clean).
Handy Hint: Newer toilets will generally offer either a back or bottom inlet. However, if you want a back inlet layout, they will often need a special valve to convert them from a bottom to a rear inlet, which will cost extra.
Toilet Style

Link Toilet Suite:
The cistern and toilet pan are joined by a plastic connection pipe, which means that its set out is very customisable as this can be cut down to the correct size for the waste set out. Link toilets are generally the cheapest option and also the easiest to install.
Handy Hint: Often link toilet cisterns are made from plastic and look cheap – find a link suite with a ceramic cistern for a smarter look and a longer-lasting toilet, such as the Dallas Link Toilet Suite.
Close Coupled:
Close-coupled toilets are named after their gapless feature between the pan and the cistern (i.e. they are closely coupled together). The waste pipe goes into the ground, leaving a gap between the toilet and the wall, which will require cleaning behind the toilet. Despite this, close coupled toilets are cheap, easy to install, and the most common type of toilet available.
Handy Hint: Consider a close coupled toilet if you have a smaller budget to work with.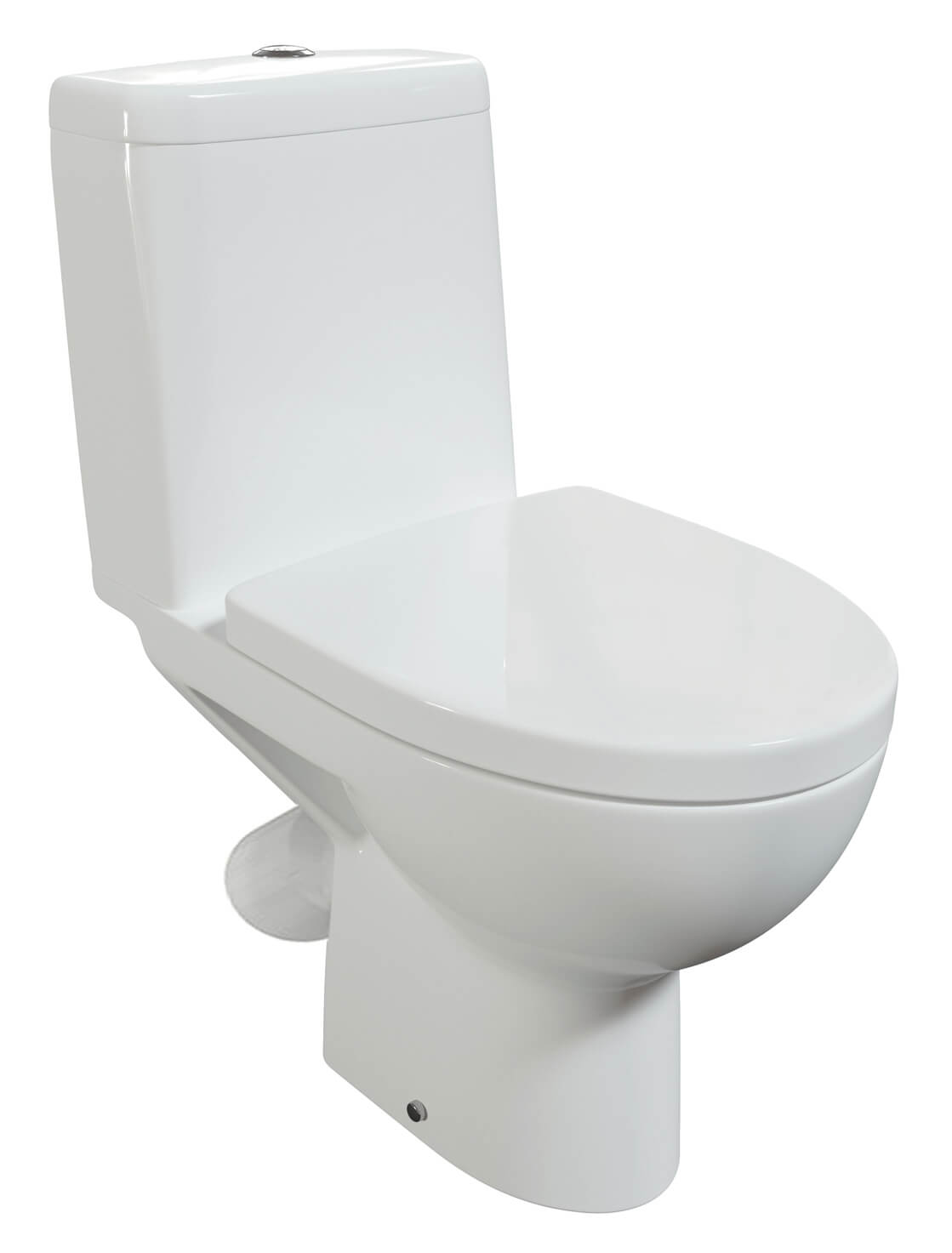 Back To Wall:
This streamlined, compact design has made it arguably the most popular style toilet on the market. The back to wall layout means no dust-collecting gap between the toilet and the wall, making it look smart and modern.
Due to their popularity, wall hung toilets are available in many different styles and designs to suit most modern homes. They have many different features, including new flushing technologies, soft-close toilet seats, and antimicrobial surfaces. However, back-to-wall toilets do come with a heftier price tag. They vary from mid-range ($500-600) to high-end ($800-900).
Concealed Cistern:
The concealed cistern toilet features a cistern that is hidden in the wall behind the toilet. Internal parts of the cistern are accessed through flush buttons on the wall, while the toilet pan can be mounted on the floor or the wall.
Most people will think of this as an expensive option. However, they cost no more than a back to wall toilet. Installation is trickier, which is where it might cost more than a standard toilet.
When purchasing a wall hung toilet, make sure the cistern has a frame – this is required to support the weight of the toilet while it is being used.
Ensure that the cistern is being installed into a cavity wall (a double brick wall with a gap between them) so that there is space for the cistern. Alternatively, the cistern can be boxed in, to achieve the hidden cistern style.
Handy Hint: Consider this for smaller bathrooms, where a hidden cistern will make the bathroom feel spacious.
Other Factors to Consider
1. Height of person using the toilet

The standard height of a toilet pan is around 400mm. Whilst the height is fine for most people, taller individuals might find that a higher set pan makes for more comfortable use. You will be using your toilet every single day, so make sure it's the right height for you.
2. Aged Care & Special Needs

On a similar note, consider features favourable for older persons and people with disabilities-particularly higher seats and ones with in-built bidet features.
3. Stick With Your Original Set Out

As much as possible, try and find a toilet that will fit your existing set-out - this should be achievable for most situations and will save a lot of money and hassle.
4.Water Saving Features

All toilets sold in Australia must have a WELS (Water Efficiency Labelling and Standards Scheme) star rating and display how much water is used per flush.
WELS explains that "replacing a traditional single flush toilet with a water-efficient dual flush toilets save about 51 liters per person per day".
Sounds like a lot? It is.
The ability to use less water when flushing your toilet or have the option to do a half flush will help conserve our limited water supplies and save you money - especially in the long run.
5. Soft-close & Quick Release Sets

Most new toilet suites are supplied with soft closed toilet seats to prevent the frustrating clash of the toilet seat slamming down.
If this sounds good to you, then make sure that your new toilets feature a soft closing seats.
And if cleaning toilets is a nightmare for you, you'll love to know that some toilets have quick-release seats where a simple button mechanism is used to remove the toilet seat easily for cleaning.
Almost all the wall-mounted toilets sold at The Sink Warehouse feature a soft-close toilet seat combined with a quick-release mechanism, as well as UF resin composition, making these seats incredible durable compared to standard plastic.
6. Nano Glaze

A great feature to look out for is nano glaze coating on the inside of the toilet bowl. This glazing prevents the build-up of grime and bacteria- making cleaning super easy!
7. Flushing Technologies

Many new toilets are beginning to incorporate all sorts of cutting edge flushing mechanisms. These are aimed at increasing the flushing power and water efficiency, as well as making cleaning easier. For example, 'whirlpool flush' toilets such as the Vienna Toilet Suite have many angled points of water flow into the pan to create more flushing power with less water.
Another popular type is the 'rimless flush', where the water flows from two outlets, cleans the whole toilet bowl with every flush and prevents splashback during flushing, making it very hygienic. This sought after technology is available in the Bern Toilet Suite.
Contact Us!
If you're reading this, congratulations! You've made it through "Toilet Training For Adults". Hopefully, now you understand all you need to know about toilets and what you need to consider when purchasing one, so whether you're building, renovating or replacing, choosing the right toilet will be a breeze!
If you need any more information on toilet types or any of our other bathroom products, please don't hesitate to phone us on 1300 301 000 or visit us in-store at 16 King Edward Road, Osborne Park, to view our extensive range.
If you enjoyed this article or have any comments or questions please leave a comment below!
a
Recent Posts
Everyone has experienced a leaking tap in their home at some point in their life. It's one of tho …

Bathrooms need the correct type of bath to make them standout and to offer you the best functionalit …

Bringing a bath into your bathroom gives the room a centrepiece that draws the eye. For that reason …