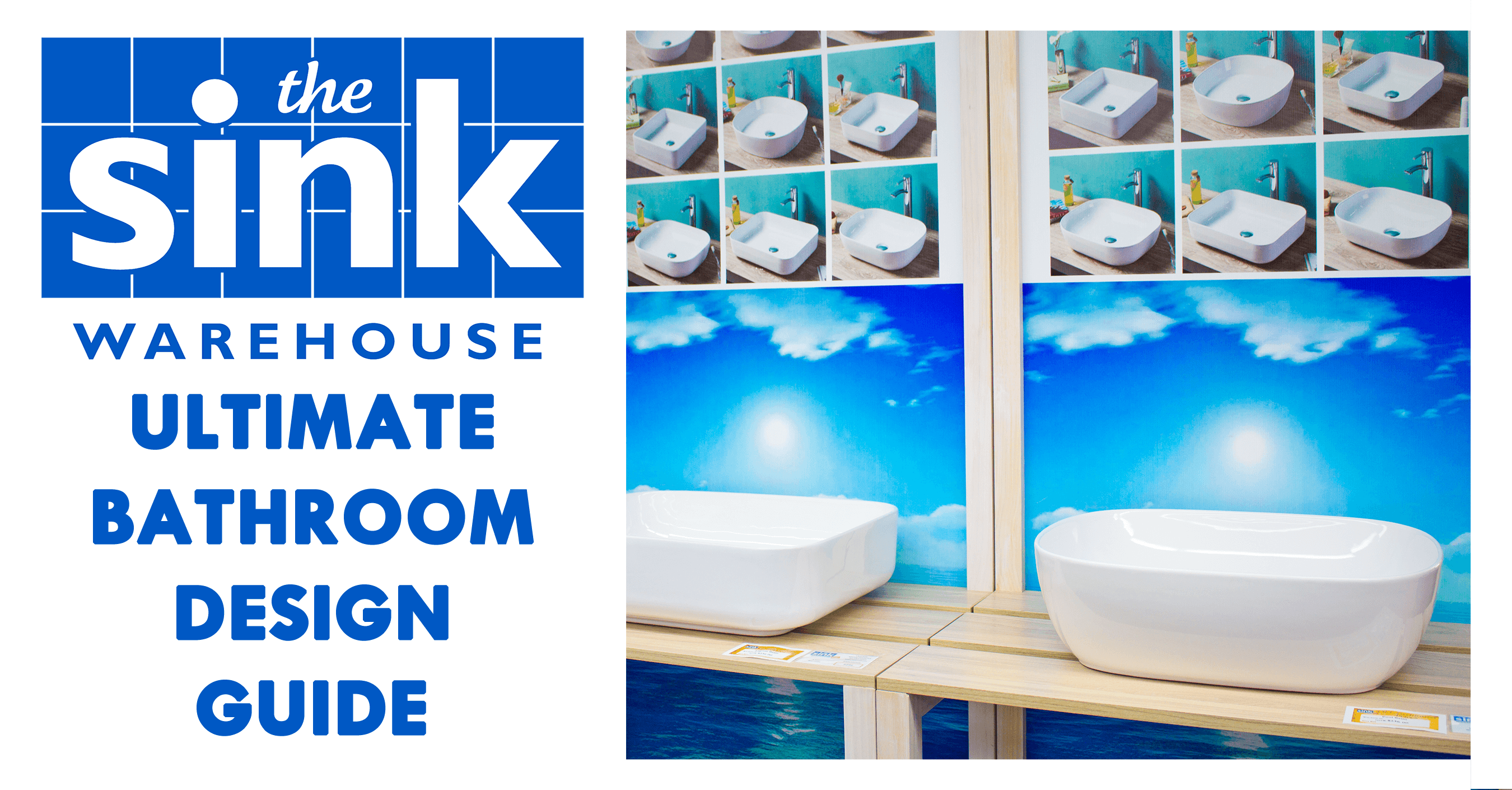 When it comes to home improvements, there are a few more satisfying transformations than those that results from renovating your bathroom. Your bathroom not only needs to look stylish, it needs to be functional too. Designing a brand new bathroom might seem a daunting task, but with The Sink Warehouse's 'Ultimate Bathroom Design Guide', it needn't be.
TAPS (3 Piece Sets & Mixers)
When renovating or building a bathroom, many select their tap design first and then the accessories follow suit. When selecting your tap, it's important to take into consideration the overall design and structure of your bathroom as well as the water pressure to ensure the best possible performance.
There are two standard tap designs – the traditional three piece set or the more modern mixer tap. Traditional taps come with one tap for hot, one for cold, and a spout. Conversely, mixers have a more contemporary all-in-one styling controlled by a single lever. Majority of taps have a polished chrome finish as it blends seamlessly in with any bathroom decor. However, may prefer the bolder all black, rose gold or antique bronze finishes.
The shape of your tap should also complement and enhance the rest of your bathroom decor. From the classic and elegant to the sleek and contemporary, bathroom taps are available in an array of styles. Elegantly arched spouts adds a classy feel and can look great in great in chrome or rose gold. Short square taps are very contemporary and look best in either a powdered black finish or shiny chrome.
Pro Tip #1: Always Measure
Every bathroom will have its own space limitations and unique plumbing. Measuring your bathroom space and plumbing before buying is a no-brainer. If you are building your bathroom from scratch, you'll have the flexibility to tailor your plumbing to your desired bathroom design. However, if you are renovating, you'll be restricted to your pre-existing plumbing and what will physically fit.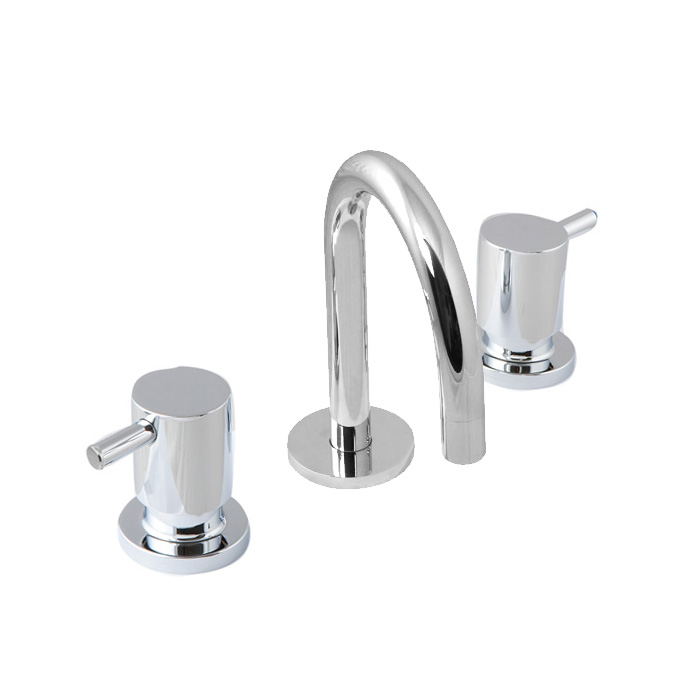 BASINS
From classic ceramic basins, to stylish glass vessels and modern above-counter basins, we have everything to compliment your bathroom design. The most used item in the bathroom no longer has to be just a utility – turn your basin into the artistic centerpiece of your bathroom! There are four basic basin designs: wall hung, semi-recessed, above counter and under-mount.
A wall hung basin is one that is fixed directly to the wall without needing to sit in or on a bench-top. Wall hung basins such as the Mindi and Tide are perfect for small bathrooms with tight access. Since there are no pedestals supporting the basin, wall hung basins have a streamlined appearance and will help create that perfect minimalist look.
If your bathroom or en-suite has limited space, but you would still like some vanity cabinets below your basin for storage, then a semi-recessed basin might be the solution you need. Semi-recessed basins like the Nelson or Jupiter, are partly recessed into the vanity so that the bowl sits forward. These basins are often used to allow for more space in a tight floor-plan without sacrificing style.
An above counter basin sits above the vanity top. Some sit high and others have a slim profile, depending on the desired look. Unlike most other basins that have little or none of the basin exposed above the bench, above counter basins demand attention and are a great way of creating a statement in your bathroom.
Lastly, under-mount basins sit under the bench top. The rim of the sink is fixed to the underside of the bench top as opposed to sitting on top of it. This creates an uncluttered, clean look, as less of the actual basin is visible and is great for modern bathrooms. Water and spills can be easily wiped directly from the bench top into the sink without any obstruction, making basins such as the Fresno and Milan great, easy-to-clean additions to a family bathroom.
Pro Tip #2: Be Consistent
For the best visual results when designing your bathroom make sure that all of your bathroomware is similar in style and finish. This means if all your bathroom accessories have rounded edges with a chrome finish, going with a black square mixer might not be the best design choice (but in the end it's your bathroom!). If you are having difficulty choosing ask our highly qualified staff for recommendations to help you find the products that are right for you!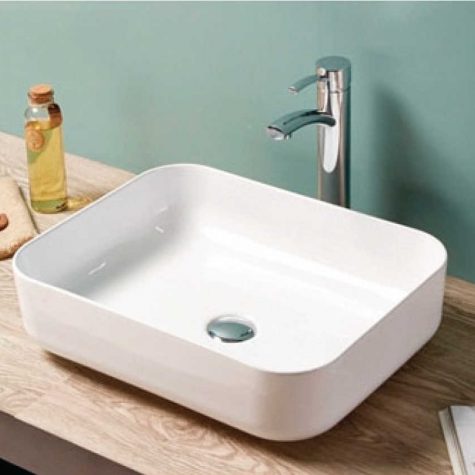 SHOWERS (Heads, Handsets & Mixers)
When choosing a shower head, there are many things to consider such as the shower head's efficiency, performance, who the users are, and how the shower head contributes to the overall aesthetic of your bathroom. There are many types of shower heads, but the best shower head is one that caters to your needs.
A fixed shower head is a timeless style where the head is permanently mounted to the wall or ceiling. This design is an excellent solution for bathrooms with low ceilings. The only downside is that since it is fixed, the shower head has very limited mobility.
The alternative to the traditional fixed shower head is an adjustable hand-held shower. Hand-held shower heads are mounted either on a sliding rail or a cradle in the wall. The biggest advantage of this head is that it provides convenience in terms of adjustability, versatility, and comfort. This is because it provides the user with more control over the direction of the water spray. Its flexibility also allows the possibility for height adjustment meaning that it is an appropriate head for households with children or people with disabilities.
If you can't decide between the two designs don't worry – you can have both! Many people like to have a fixed shower for everyday use accompanied by a handheld shower for added flexibility. The Sink Warehouse has a huge range of shower heads and sets. Just remember, If you do decide to go for a fixed shower head/handset set, make sure you look into getting a matching mixer diverter too. Without a diverter you won't be able to switch the water flow between the shower head and handset.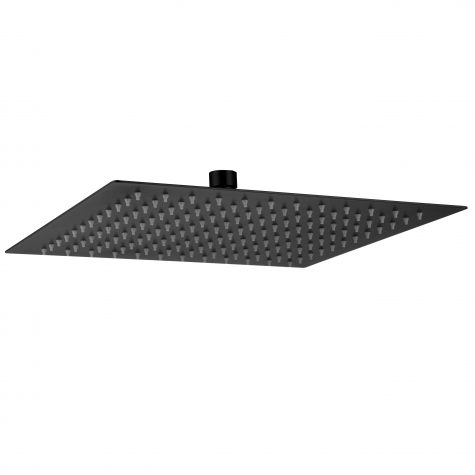 Silas- Shower Head Stainless Steel
BATHS
Selecting a bath is usually determined by two factors – the amount of space you have to work with, as well as the style you are after. Our baths come in various sizes and finishes, so we've got something to suit your next bathroom design. The options vary, but ultimately you'll be deciding between a freestanding bath or an inset model.
The inset bath is the most common bath design and are usually installed against a wall on two or three sides. Inset baths come in a variety of sizes so if you have limited space, you'll still have the option to fit a tub, even if it isn't a full sized tub. Unlike freestanding baths, an inset bath can also double as a shower. This is ideal for small bathrooms where having both a separate bath and shower is not possible. For the best bath-shower experience go for one of The Sink Warehouse's P-Shaped inset baths. This bath design is optimised to be both a bath and shower as the P-Shape provides more room to stand when showering as well as functioning as a bathtub.
Freestanding baths, in the simplest sense, are those that don't connect to any walls for support. This is where some of the most innovative ideas in bathtub design have been allowed to grow in recent years, resulting in the use of a variety of unconventional shapes, materials and themes. Freestanding baths are perfect if you want to make a statement will help you create a contemporary bathroom space. For those who prefer the more traditional stylings – claw-foot baths are also at your disposal. As the name suggests, claw-foot baths are tubs that sit on four clawed feet. This style of bath came into popularity as a high society item during the late 19th Century.
TOILETS
The once overlooked toilet has undergone a drastic design transformation in recent years. For many, it has gone from being an ugly and obtrusive necessity to the staple-piece of their bathroom design. Our range of ceramic toilet designs will complete your bathroom with a touch of class. There are four main toilet designs – close coupled, wall-faced, concealed and connector.
With a close coupled toilet, the cistern and toilet pan are fully integrated to hide the flush pipe. It's a popular choice for mid-range bathroom renovations as its traditional look suits all bathroom designs, and is easy to clean due to the pan and cistern being joined together. Close coupled toilets come in a huge variety of styles, however, be aware that it does not offer a high amount of flexibility with regards to the set-out.
The wall-faced, or 'back-to-the-wall' toilet suite, has the toilet cistern attached directly to the bathroom wall. This in turn conceals obtrusive toilet pipes and creates modern look perfect for any contemporary bathroom. Due to no gaps between the toilet and the wall, it is also incredibly easy to clean. The wall-faced, or 'back-to-the-wall' toilet suite, has the toilet cistern attached directly to the bathroom wall. This in turn conceals obtrusive toilet pipes and creates modern look perfect for any contemporary bathroom. Due to no gaps between the toilet and the wall, it is also incredibly easy to clean.
Ideal for small bathrooms, the concealed toilet is mounted to the bathroom floor and the cistern is hidden inside the wall cavity, leaving only the toilet pan in sight. Concealed toilets offer an uncluttered and sleek design that saves space and is easy to clean.
The most traditional look, the connector, or 'link suite' has the cistern joined to the pan only by the flush pipe which is hidden by a plastic plate. It provides the greatest amount of flexibility for installation as the pan can be moved forwards or backwards to suit any set-out.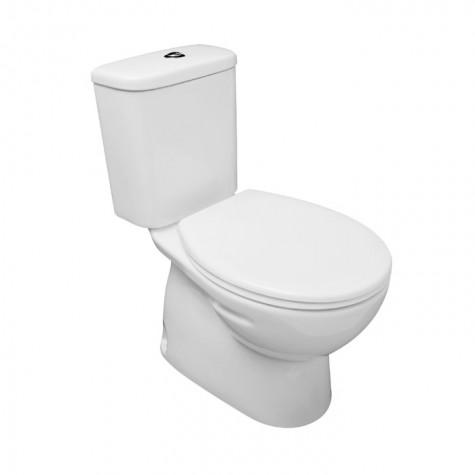 VANITIES & VANITY TOPS
Vanity units provide an excellent storage solution. At the Sink Warehouse we have vanities of all styles and sizes to enhance any bathroom interior. Whether you'd prefer wall-hung or floor mounted, finger-pull drawers or drawer handles, stone or ceramic tops – we have the bathroom vanities to compliment your bathroom design.
Should you choose a simple bathroom vanity cabinet or something different? If you're looking for something simplistic, we recommend a classic or cube vanity. For tight spaces, like bathrooms in apartments or guest bathrooms, corner bathroom vanities are a great space saving option, as are our en-suite vanities and powder room vanities. Alternatively, wall-hung vanities suit a more intrinsic designed bathroom. As for your vanity tops, we have ceramic, poly-marble and stone top options available.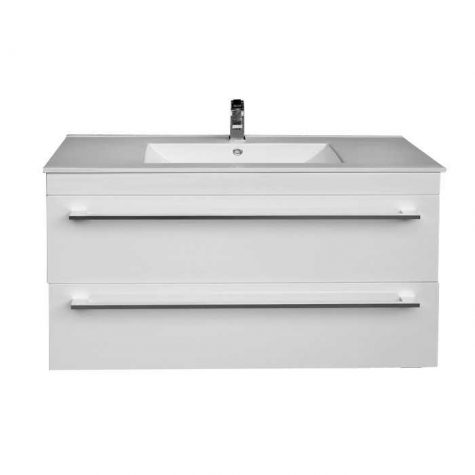 Indi 900 Cabinet With Ceramic Top
ACCESSORIES
So you've chosen everything else for your future bathroom. You've made all the hard decisions, but you know you're not quite done yet, right? Sometimes the smallest details added as finishing touches transform just a good bathroom to a great one. When you buy bathroom accessories you obviously buy first for function, but the good news is that The Sink Warehouse is here once again to provide you with high quality and stylish accessories for your bathroom. From towel rails and rings to toilet roll holders, below are our favourite accessory ranges.
The Sink Warehouse Accessories
For everything bathroom, kitchen and laundry, come on down to The Sink Warehouse!
a
Recent Posts
Everyone has experienced a leaking tap in their home at some point in their life. It's one of tho …

Bathrooms need the correct type of bath to make them standout and to offer you the best functionalit …

Bringing a bath into your bathroom gives the room a centrepiece that draws the eye. For that reason …