Let's talk about the most classic and traditional sink around – the Farmhouse Sink. There's a reason that it is still such a popular choice despite the multitude of modern options for kitchen sinks and laundry troughs. The Farmhouse Sink is known under many different names. In America, it is called an Apron Front Sink, while in the UK it is known as a London or Belfast Sink. However Australians know them as a Farmhouse Sink or Butler Sink. But how did they come about?
A Long History
The Farmhouse Sink came to exist in the days long before houses had fresh running water, when sinks had to be filled with water manually carried from wells, rivers, streams and lakes. Its considerably large design meant that it could hold a large volume of water and therefore reduce the number of times it had to be refilled, saving time and effort of women who were predominantly in the kitchen in those archaic times.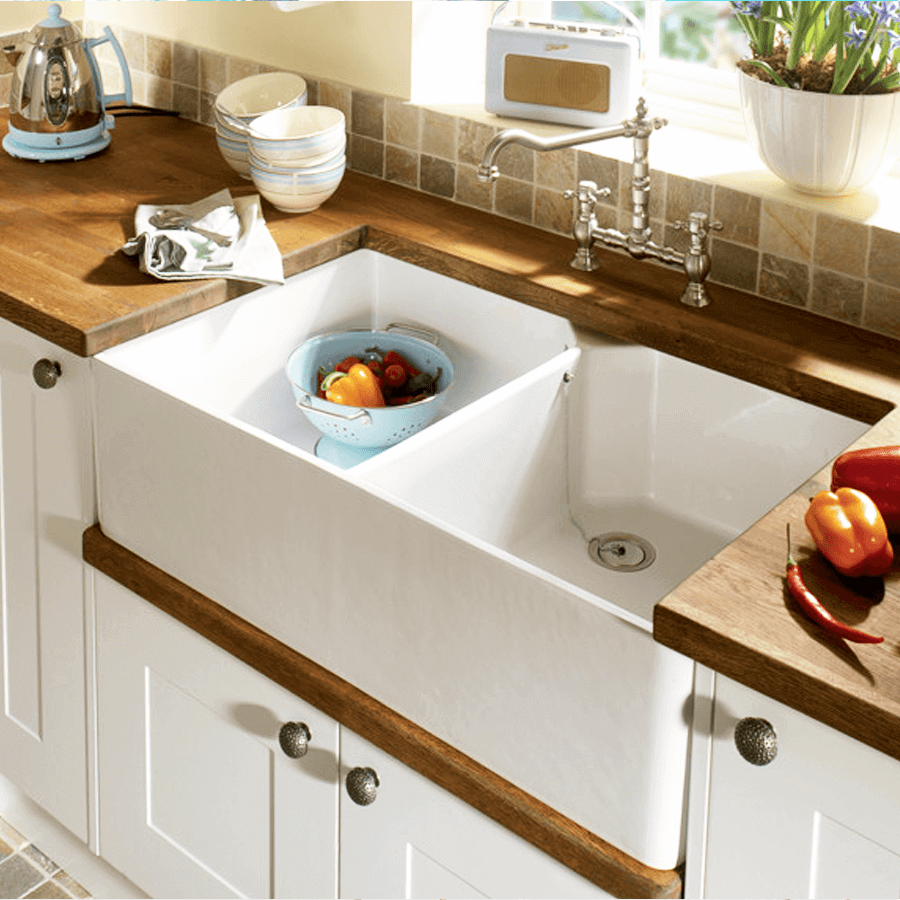 In the late 17th century, the Belfast and London sinks emerged in Ireland and Britain, respectively. Although they are now thought of as the same sink, they began their lives with slightly different features to suit the areas they were designed for. London faced water scarcity and so the sink did not have an overflow in order to preserve every last drop of water, whereas the Belfast was developed with an overflow to avoid water spilling over the sides of the sink as water was not an issue.
Interestingly, the sink was designed with comfort in mind. As there is no cabinet or counter between the user and the sink, the user can stand directly in front of it without having to lean over to access the sink. This was great for women who were typically the main users, and surprisingly very little has changed about the Farmhouse style sink since it was first invented. The main differences between then and now are more options in sizes and number of bowls, as well as different materials of construction such as stainless steel, stone and copper, in addition to the original fire clay style.
Installation
It is quite a job to install a Farmhouse Sink compared to a typical inset sink here it is just plopped into a hole in the counter top. Due to its weight, the Farmhouse Sink needs to be rested on a solid shelf in the cabinet that is able to hold the weight of the sink. They are also installed to be lightly jutting out from the cabinets, which is beneficial if water were to spill out it will run down the sink and onto the floor, avoiding damage to cabinetry. They are also installed slightly below the level of the counter, which allows easy cleaning of the bench top directly into the sink..
Pros
Farmhouse sinks can be used in both the kitchen and the laundry because of their depth, and can be used for an infinite number of tasks, from washing dishes and clothes, to washing babies and pets!
Nowadays, these sinks are available in a wide range of materials including fire clay, stainless steel, stone and copper, making them a popular choice in modern kitchens as well as traditional ones. There are also many different sizes and number of bowls available to suit any space.
They are quite durable, as well as stain and scratch resistant, however care needs to be taken with larger items as these sinks can be chipped with a large amount of force such as dropping a pot into it.
They are a lot easier to clean than stainless steel and will look great for years to come without requiring a lot of maintenance.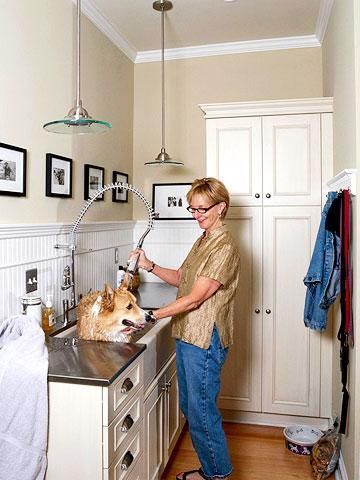 Dog Washing in Farmhouse Sink
Cons
They are very costly; much more than a standard stainless steel sink. As such, you'll need to make sure it is definitely what you want before you buy.
Farmhouse sinks are incredibly heavy and therefore require custom cabinetry as they must rest on a shelf with the ability to support the weight of the sink.
Food for Thought
If you go with a very large one, best to get a pull out spray tap to make it easy to clean the whole sink.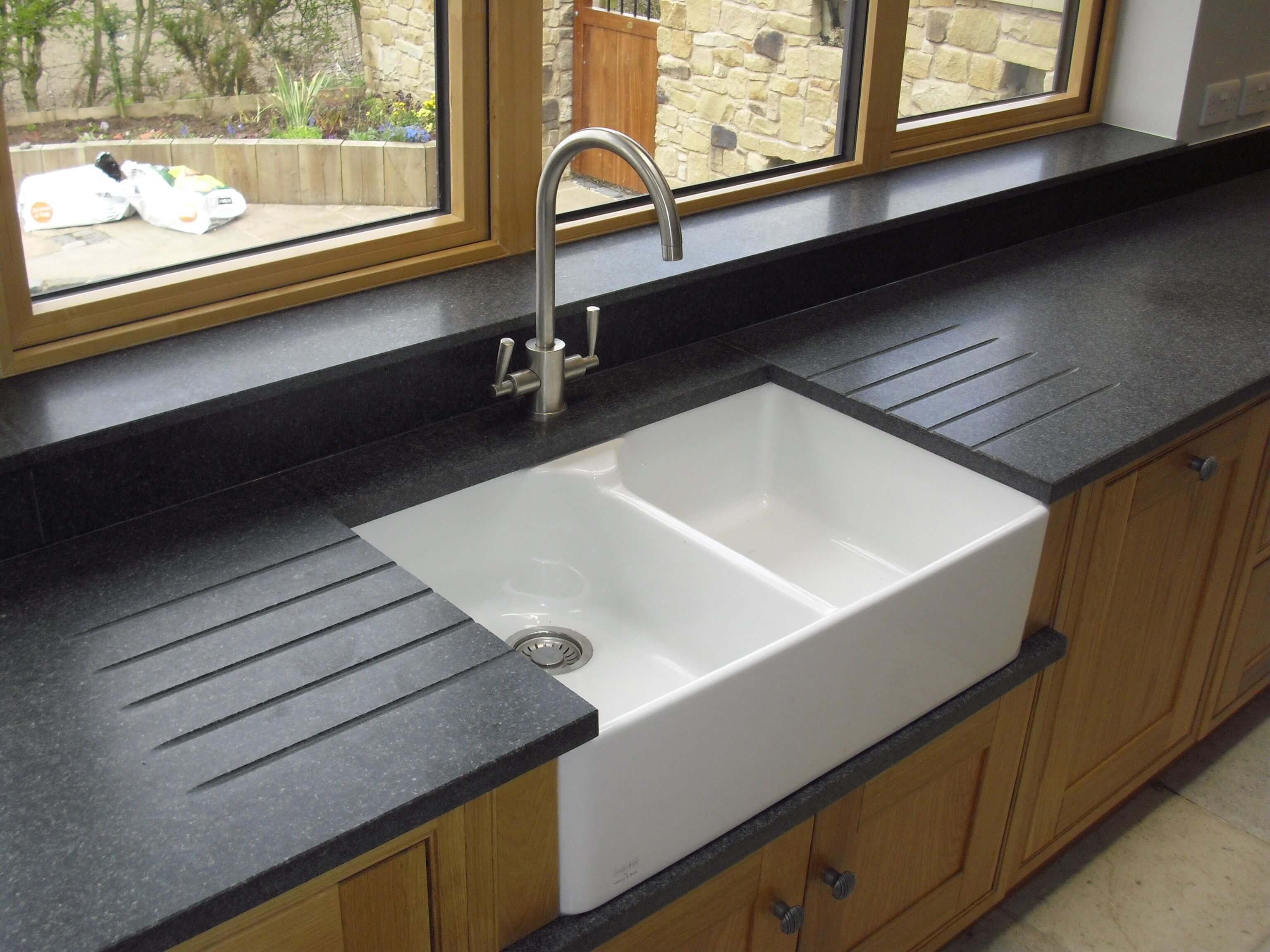 There is no draining space. Often people might had draining grooves built into their bench top to flow with the style and not take away from the look of the Farmhouse Sink.
Conclusion
The Farmhouse Sink is a stunning investment not only for its style and perpetual popularity, but for comfort of use, practicality and durability. Whether you want the more traditional style of a classic fire clay sink, or a contemporary stainless steel piece, there's no doubt the Farmhouse will make a statement in your kitchen for years to come.
If you have a Farmhouse sink, let us know what you love about it - leave a comment below!
a
Recent Posts
Bathrooms need the correct type of bath to make them standout and to offer you the best functionalit …

Bringing a bath into your bathroom gives the room a centrepiece that draws the eye. For that reason …

The bathroom and kitchen industries have been dominated by coloured tapware, sinks and accessories f …