Kitchen Renovation
Thinking about renovating your kitchen? Already started looking for ideas? A kitchen renovation is a task that's certainly easier said than done. You need to consider layout, types of appliances, design, how it fits with your home, and that's before you begin renovating! With so much to think about, its easy to feel overwhelmed and unsure of where to start.
Does your kitchen look something like this? Continue reading for tips on how to get your perfect kitchen!
Here are 3 essential steps to follow when planning a new kitchen to get the most out of your renovation and remove the stress associated with this major home project. Do you have a kitchen that looks something like this? Read on to grab some great kitchen renovation tips!
1. Main Requirements
Kitchen renovation planning should ideally start with thinking about the way you and your family use your kitchen and your home. This will help you create a list of your most important requirements for the new kitchen. Include everything from the biggest design choices such as open plan vs. closed plan and which styles and colours will seamlessly tie in with the rest of the home, all the way down to the number of electrical power points you require. Is it important to contemplate the most essential features for you – some common ones include: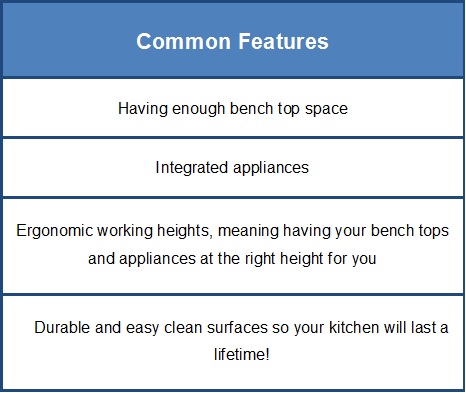 Although this task is easier said than done, you should take your time to think this through – trust me, you'll be grateful you did! Once you have achieved this, it is now time to think about how these parts will come together to give you the most functionality.
2. Ideal Layout
When you think about kitchens through the decades, you may notice that not much has changed… other than that we've grown a much better fashion sense, of course! This is because the basic framework still works for us today.
There are five areas to an effective kitchen layout: cooking, cleaning, preparation, and storage of consumables and non-consumables. This is where flow planning begins, and is arguably the most important decision you will make to give your space functionality customised to fit you. Every kitchen has a 'working triangle' that is the most used path in the kitchen – between the oven/cook top area, fridge and sink. As such, you need to consider the distance and location of all three areas in relation to each other.
3. Maximise Your Space
Kitchens, just like houses, come in weird shapes and sizes, so it's important to maximise whatever space you have for optimal functionality. There is an incredible amount of options out there to help you with this, ranging from tall storage units to take advantage of high ceilings, or more subtle considerations such as corner inserts to get the most of those small spaces.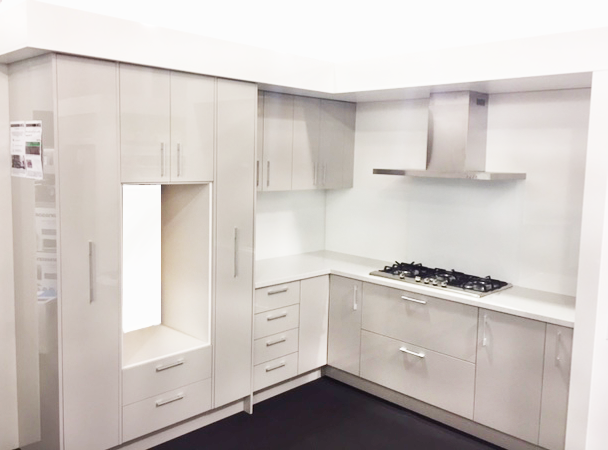 A beautifully constructed renovation within a small space
One key to a well-designed kitchen is user-friendly storage such as pull out inserts in drawers and cupboards so that you are not rummaging around in the back of the cabinet trying to find the whisk that got stuck behind the pots and pans.
And to help you along your way, here are some extra things to think about that you may not have considered yet….
Things To Consider
1. Family Kitchen
How many are you feeding? This will impact the amount of preparation space and appliance size you will need to consider in your kitchen renovation.
Where will kids be whilst dinner is being prepared? You might like to add seating around an island so that the whole family can be together.
Think carefully about where you position the more dangerous appliances such as the stove and oven – for the kid's safety, it wouldn't be smart to have them located near the entry and exit of the kitchen as they will be running in out and all the time!
Storage – an important point! The bigger your family, the more space you'll need to store everything. Also keep in mind that the kids will require easy access to their plates and cutlery so keep in mind lower level cupboards to store crockery.
Further to this, you will need high wall cupboards to keep chemicals and dangerous items out of reach from the little ones.
2. Technology
Power points. Think about all the appliances you will need and add extra power points on top of that just in case – who knows how many exciting home and kitchen gadgets may be invented in the future!

The most common feedback we get from our kitchens is how happy people are with power points located on the sides of island benches. Often there are no walls to use and it's much better to have power points out of the way for easy access by vacuums and device chargers.
Another interesting question to ask yourself is "do you want to watch TV whilst cooking or sitting in the kitchen?" If this is the case, you'll again need to consider power points and their location.
Lighting is an important but often neglected feature that should be carefully contemplated. Is your kitchen full of natural light? If so, you may not require a great amount of lighting and may consider dimming lights for that extra boost if needed. If the space is already quite dark you should take the opportunity to add more lighting to brighten up the space.
3. Future Use

Something you may not have considered is how you use the kitchen currently to how your requirements may change in the future as the kids grow up, have more friends over, start learning to cook, or move out down the track. Or maybe you're a growing family and need to consider adding more space and features to your kitchen so that you won't outgrow it in 5-10 years time.
Hopefully now you have a much better idea of where to begin with your kitchen renovation and a little bit of inspiration to do so! When you keep these three main points in mind you are sure to create the perfect, most functional kitchen for YOU!
If you're still confused or struggling with decisions, why not chat to one of our kitchen designers – we'd love to help! Contact us through our website, kitchensdesigned.com.au, or send an email to info@kitchensdesigned.com.au.
Recent Posts
Everyone has experienced a leaking tap in their home at some point in their life. It's one of tho …

Bathrooms need the correct type of bath to make them standout and to offer you the best functionalit …

Bringing a bath into your bathroom gives the room a centrepiece that draws the eye. For that reason …