Are you replacing your kitchen sink? Renovating the whole kitchen?
Have you found yourself feeling overwhelmed with the multitude of sink choices available?
Stress no more, as we divulge three simple design choices you need to make to get the modern look.

1. Swap A Drop-In Sink For An Undermount Sink
Under bench, under counter, under mount.
Whatever you like to call it, switching to this style of sink is a simple yet effective way to bring your kitchen into the twenty-first century without spending a fortune.
Undermount sinks are appealing because of their clean line aesthetics that de-clutter bench tops.
On top of that, they are exceptionally practical – one of the most pressing problems with drop-in sinks is that you'll have to cut into a large portion of your stone to install it.
Home owners often ask themselves:
"Why buy an expensive stone bench top when you are going to remove most of it for your sink?"
Arguably the undermount's most favourable feature is that it allows you to reclaim valuable bench top space.
And don't worry about the lost drainage space – purchase a matching detached drainer that can be packed away when not in use or cover the sink – you'll add to your work space whilst still saving your bench top!
Best of all, undermount sinks are not as expensive as they seem, meaning that you won't be paying an arm and a leg for the upgrade!

2. Square, Square, Square!
If it's a modern look you're after, a square kitchen sink is the way to go.
All the rage right now, the minimalist square look will give your kitchen a contemporary and timeless feel.
They're also naturally larger than their round counterparts leaving you with more bowl space to work with.
And if you don't fancy the idea of a sharp square edge in your sink, softer square edge sinks are readily available.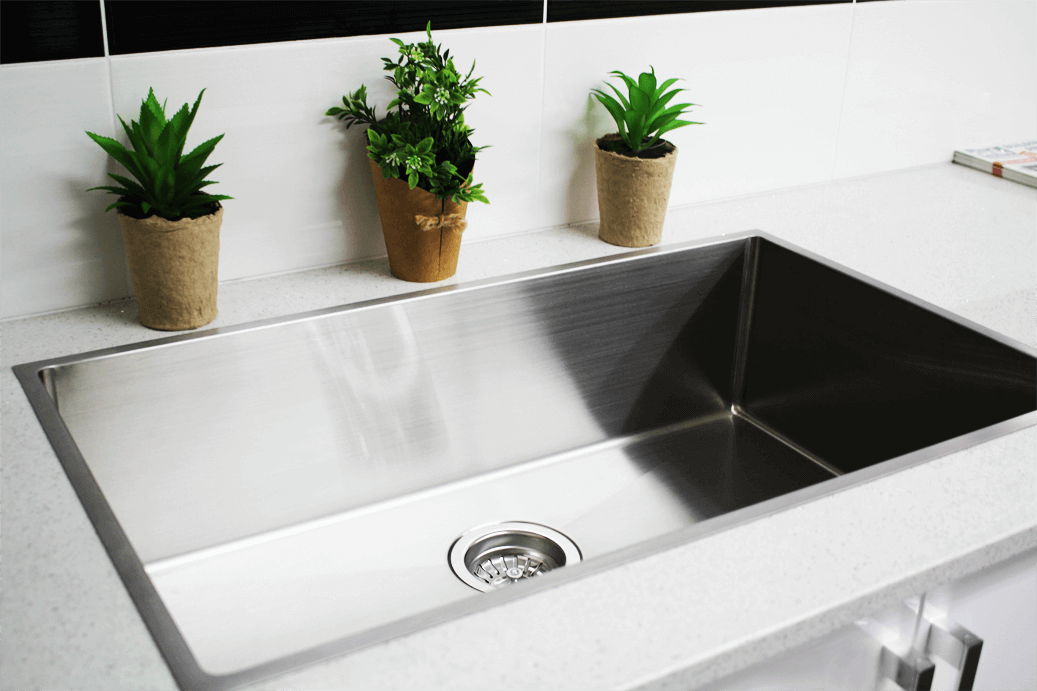 3. A Brushed Stainless Steel Finish
It should be no surprise to anyone who owns a stainless steel sink that stainless will scratch.
Whilst stainless steel is one of the most durable materials out there, long-term use is bound to cause small scratches to the surface of the sink.
That's why you need to make sure your new sink features a brushed stainless steel finish rather than a polished one – this will not only amplify the contemporary look, but will also hide the scratches that will accompany long-term use.
Brushed stainless is therefore both the practical and aesthetic choice, guaranteeing that your kitchen sink is a pleasure to use for many years ahead.
To recap – An undermount sink will not only save you bench space, but is more practical than the ordinary top-mount sink.
Combine this with a square style and a brushed finish, and you'll end up with a modern yet highly functional kitchen sink to last for decades to come.
Recent Posts
Everyone has experienced a leaking tap in their home at some point in their life. It's one of tho …

Bathrooms need the correct type of bath to make them standout and to offer you the best functionalit …

Bringing a bath into your bathroom gives the room a centrepiece that draws the eye. For that reason …